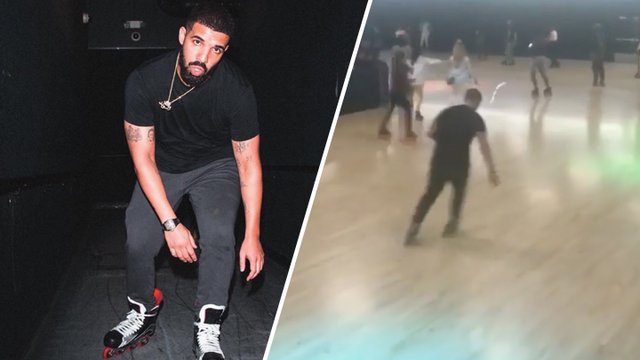 Watch Drake Roller Skate to His Own Music at Floyd Mayweather's Birthday Party
27 February 2018, 12:10
The boxer threw an old-fashioned roller-skating party for a host of famous friends.
Drake appeared to be enjoying himself as he rode through Floyd Mayweather's 41st birthday celebrations on a pair of roller skates this weekend.
The 'God's Plan' rapper attended Mayweather's star-studded roller-skating party at World On Wheels in Los Angeles on Sunday.
As the champion boxer strolled around the rink with his family in a pair of custom Nike skates, Drizzy wasn't far behind, casually performing solo circles.
And all the while, the DJ was playing the OVO hitmaker's 2015 song, "Right Hand," through the speakers.
After he finished skating, Drake headed to the arcade to shoot some hoops with the likes of French Montana.
During a basketball mini free throw game, the Canadian rapper bragged about being the 'Steph Curry with the hit' before adding: 'Referees are reviewing'.
The old school party was just one of Floyd's 41st birthday events – the boxer also threw a star-studded evening at The Reserve in downtown Los Angeles.
He was joined by Mariah Carey, Jamie Foxx, Wiz Khalifa, Bobby Brown, John Singleton, Stephen Belafonte and Drake's father, Dennis Graham.