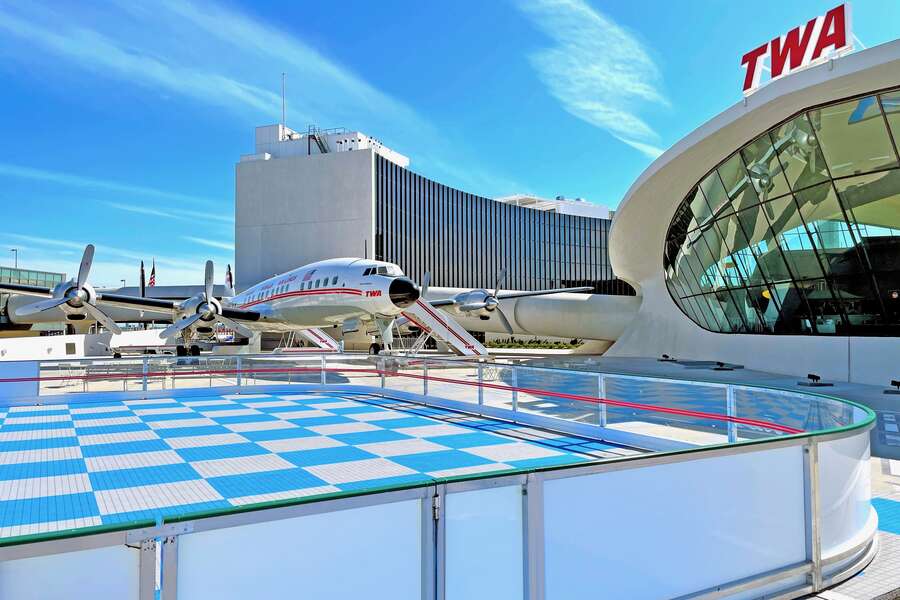 Roll-A-Rama at the Rink: Roller Skating on the Tarmac at JFK Now
If retro ice rinks are your jam, this one is for you. The TWA hotel at JFK International Airport just opened a brand new 60s-inspired ice rink this weekend.
The hotel hosts Roll-A-Rama at the rink every weekend throughout the summer, where guests can skate around the 44-foot by 56-foot outdoor rink on the tarmac on Fridays from 4 p.m. to 8 p.m. and Saturdays. and Sundays from noon. -20h.
The TWA hotel occupies the space of a 1962 Flight Center that has been reimagined as a chic hotel with vintage decor, so it's only fitting that the ice rink adjacent to the tarmac has a retro feel as well.
The blue-and-white checkered ice rink sits in the shadow of a historic Lockheed Constellation 1958 plane that the hotel converted into a lounge bar, and the rink will play disco and other homecoming songs.
Each skating session lasts 50 minutes and admission is $ 20 for adults and $ 16 for children under 12 (including skate rental). Capacity is limited and tickets are available on a first come, first served basis and cannot be purchased in advance.
Guests should wear socks (preferably tubular socks to stay on the theme), so bring your own or plan to purchase some at the ice rink or the TWA store in the hotel lobby.