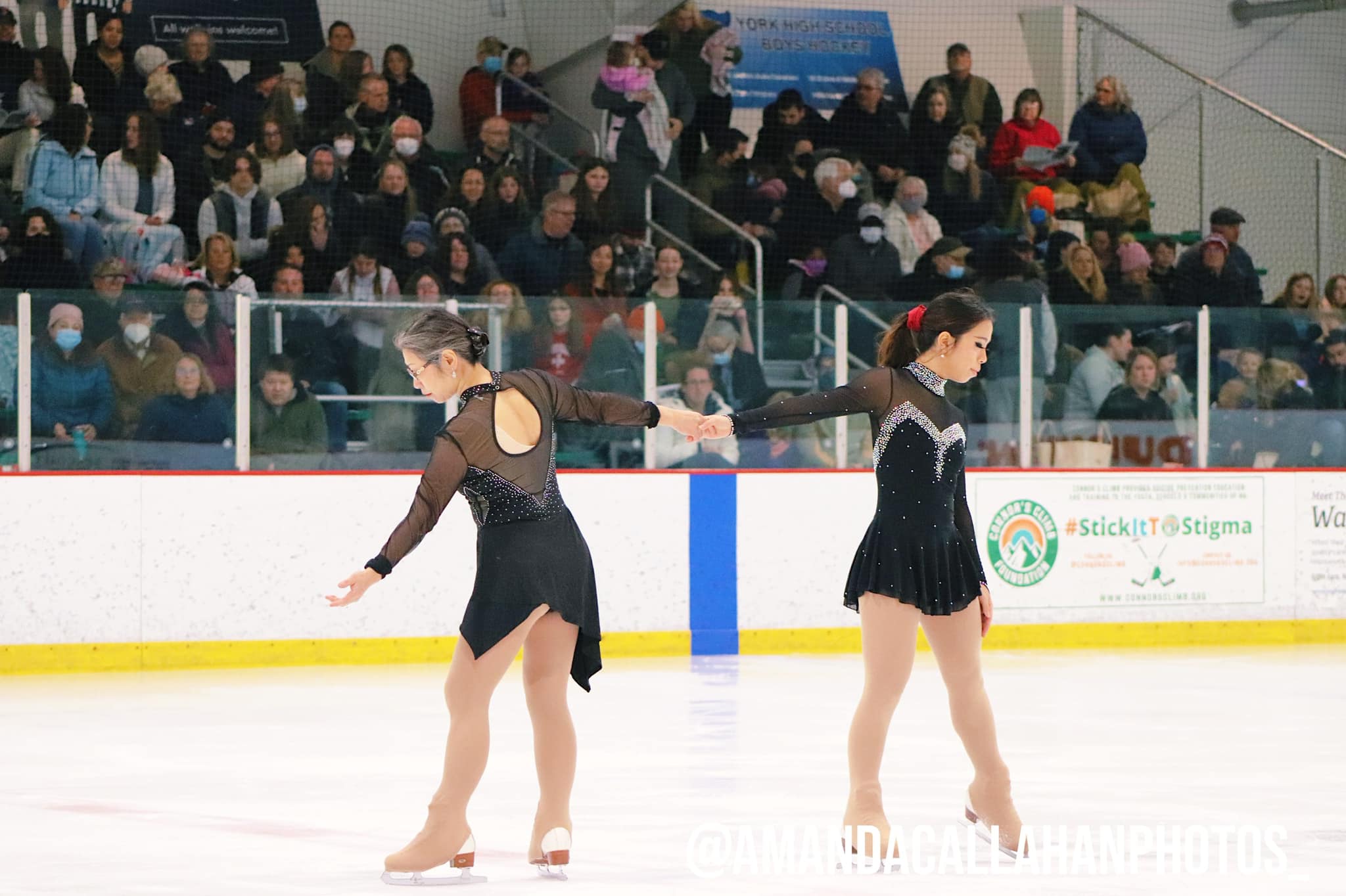 Perfect Duo | American Figure Skating
Above: Mom and daughter Yuko and Lauren Lynch (photo by Amanda Callahan Photography)
By Joanne Vassallo Jamrosz
The Great Bay Figure Skating Club in Dover, New Hampshire boasts a proud 46-year history and annual spring ice show.
The show still features skating bands, solos, and the occasional duet. This year, however, four duos took center stage, each with a unique skating story.
"The Spring Show is an annual event," club president Mercy Marchuk said. "We've had shows every year for 46 years, except in 2020 when we canceled due to COVID-19. The theme this year was Future Dreams. It was a fitting theme in an Olympic year, with kids dreaming of their full potential in figure skating.
Mother-daughter skaters Yuko and Lauren Lynch took to ice skating for "I Don't Want to Miss Anything."
"It's always been fun skating with my daughter," Yuko said. "I felt that performing with her is a special pleasure that we can cherish for years. This year's performance was probably our last since she left for college, so I chose the music "I Don 't Want to Miss a Thing" to express my love for my daughter.
The mother-daughter duo was indeed moving for the skaters and the public.
"I was so emotional after their practice," Marchuk said. "I could barely see them coming out of the ice through my tears."
Lauren then returned for a second duet with fellow senior graduate and dear friend Jes York. The two skated to "Death of a Bachelor" from Panic! at the Disco, a program that York found fun and creative.
"My duet was special for many reasons," York said. "My partner Lauren and I were working on our school choreography over lunch. We had a huge whiteboard and drew a map of the rink to help place all of our elements. This routine was special to me because the memories of creating the program were just fun.
Marchuk noted the special bond between this pair of graduating seniors leaving the ice and lifelong skating friends.
"They competed on their high school skating team together," Marchuk said. "These two young women have brought so much joy and energy to our club. We will miss them even though we wish them well at university next year.
The show's final two banner duets spotlighted the club's young skaters.
Friends Peyton McKee, a fifth grade student, and Lilly Pelletier, 10, skated to Jubel's "Moonlight". Both have skated for the past four years and have shown their friendship on the ice.
"Skating this duo was special because I got to skate them with my best friend," said Pelletier.
McKee agreed and loved that her best friend could also be on the ice and sharing her time in the spotlight.
"Lilly gives me confidence. Watching her while skating with me," McKee said.
The last duet was probably the most special since the duet suddenly became a last minute solo performance.
"Our last duo was supposed to be Paige Puglisi and Mason Webber," Marchuk said. "Mason and Paige are great friends on and off the ice. They have been skating for about four years and are 10 years old.
The two diligently practiced their show schedule, but Puglisi had to self-quarantine at the last minute. When Puglisi was unable to attend the show, Webber went on alone.
"He stood out from just two male soloists in the show," Marchuk said.
However, two weeks after the show, Puglisi and Webber performed their duo ice show program at the club's learn-to-skate session, complete with costumes.
"Mason and I have known each other for a long time," Puglisi said. "It was nice to bond more with him while learning the routine. Every week when I train I learn something new. Learning to skate has helped me do things that I wouldn't have never dreamed of doing.
For Marchuk, as club president, watching those perfect pairings this year was special for many reasons.
"I see these children every Saturday when they register for their lessons. I'm often the go-to person when they move from LTS to freestyle and private lessons. I like to see all the skaters grow from year to year. Seeing them take the ice cream with their best friend or family is really special," Marchuk said.