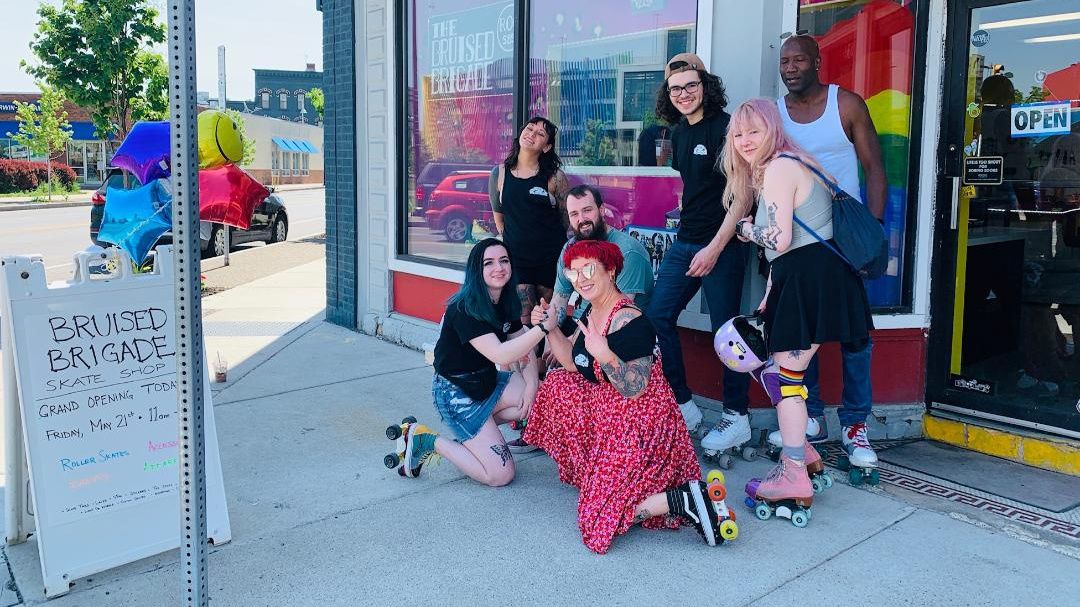 Bruised Brigade roller skate store opens in Rochester
ROCHESTER, NY – The roller skating revival continues to roll in Rochester. A former roller derby skater turned entrepreneur has opened a new skate shop on Howell Street in Rochester.
Bettie Pain went from not knowing how to change bearings on her own skates to making custom roller skates out of any shoe, sneaker, and even high heels.
"I am actually certified by Rydell and Chaya," said Bettie Pain. "When I skate in a park I want to feel my toes, I want to feel the soles of my foot and my ankles. I want to know that when I land I know exactly where my wheels are going or I'm going to roll an ankle. So I learned how to make the frames and how to make a derby frame, a straight frame and a flat frame. There are so many different ways of mounting skates.
She's so good at what she does and yes, she's full of style with a personality to match what Krudco's Aaron Costa helped turn his old Krudco headquarters at Howell Street at Monroe Avenue into Bruised. Brigade.
"Aaron has changed my life 100% and I wouldn't be where I am today without him," Pain said. "Bruised Brigade wouldn't exist without Aaron and Scott Tyx. Scott is my business partner and he's been 100% supportive of me in this area as well."
Pain, who has been sober for four years, says park skating is where she feels.
"When I was drinking I made a few mistakes. I actually went to jail," she said. "Aaron took the risk that I knew my story and I came here."
Pain and his team of course work on roller skates. They all aim to teach people how to skate safely. She has skate lessons every Monday and community rollouts once a week.
"We want all the wheels to turn," said Pain. "It's to show unity in the community. So we have skateboards, roller skates, in-line, scooters and bikes. I don't care what you're on, come on. that way when you go to the skate park you have a little more unity and it's not that scary and you know people. "
Whether it's your first time on skates or your first time in a long time, Bettie Pain and the Bruised Brigade can have you riding safely in style and comfort.
The Bruised Brigade is located at 85 Howell St., Rochester. It is open Wednesday to Saturday from 11 a.m. to 7 p.m., Sunday from 12 p.m. to 5 p.m. and Monday from 11 a.m. to 6 p.m.